Space Grant Opportunities
Whether you're in kindergarten, graduate school, or simply a lover of science, Space Grant and NASA have opportunities for you.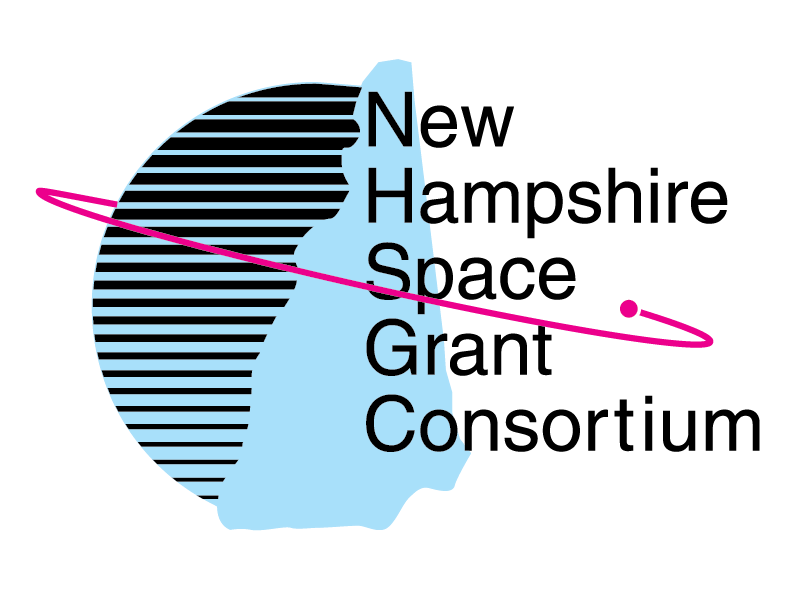 Undergraduate and Graduate
NHSGC Affiliate Programs
UNH Space Grant Fellowships
2023 Summer/ Fall award deadline:
March 15, 2023
The New Hampshire Space Grant Consortium typically awards two fellowships per semester for research-based graduate study in NASA-related disciplines at the University of New Hampshire. NASA-related disciplines cover a broad spectrum of fields, including (but not exclusively): physics, space physics, astrophysics, science education, computer science, engineering, Earth science, and life sciences which utilize space technology and/or adopt a "planetary" view of the global environment.

Application info
MSDC Internships
Each year the McAuliffe-Shepard Discovery Center seeks undergraduate students majoring in science, technology, engineering or mathematics (STEM fields) to work as interns on STEM-based curricula and to serve as lead teachers in summer day camps. Applicants must be currently enrolled as undergraduate or graduate students majoring in a STEM field; at least three months' experience in teaching and/or working with children is preferred. The ideal candidates will be self-starters with strong leadership and social skills, who enjoy working with children and who can positively challenge and encourage children to learn and explore. Due to federal funding for this program, applicants must be U.S. citizens.

MSDC website
CCSNH Scholarships
The NASA Space Grant Scholarship is available to part- or full-time students enrolled in a STEM certificate or degree program at any CCSNH college. Eligible students must be US Citizens and have a minimum 2.5 GPA. NASA values diversity and strongly encourages underrepresented and nontraditional students to apply. The fall award cycle opens on March 20, 2023.

Application
Faculty
Supporting research in science and technology is an important part of NASA's overall mission. NASA solicits this research through the release of various research announcements in a wide range of science and technology disciplines. NASA uses a peer review process to evaluate and select research proposals submitted in response to these research announcements. Researchers can help NASA achieve national research objectives by submitting research proposals and conducting awarded research.

K-12 and Outreach
The McAuliffe-Shepard Discovery Center serves as New Hampshire's NASA Educator Resource.
Find regularly-updated information about the April 8, 2024 eclipse, including safety, how to observe, what to expect, and more.
NH GRANIT provides access to New Hampshire's geospatial data and resources as the NH Statewide GIS Clearinghouse. Their ongoing mission is to promote the efficient use of New Hampshire's diverse resources by utilizing spatial information in an effective way, and by providing geographic information and related tools to citizens and organizations
Explore opportunities, media, lesson plans, citizen science opportunities, and much more!

Mount Washington Observatory is excited to continue our popular Arctic Wednesdays professional development program this winter, introducing teachers and students to the arctic landscape of Mount Washington, often dubbed the "Home of the World's Worst Weather." On select Wednesdays between January and March, teachers can apply to join our weather observers on their snowy commute to the Mount Washington Observatory.

Connect live via Zoom to the highest peak in the Northeastern US, Mount Washington, New Hampshire, as Weather Observers and Education Specialists at the non-profit Mount Washington Observatory present a virtual program called "Home of the World's Worst Weather Live." Geared towards students in grades 6-8.

AN EDUCATIONAL EXPEDITION TO THE HOME OF THE WORLD'S WORST WEATHER
Distance learning utilizes live, interactive video conferencing technology, allowing us to bring the science and excitement of Mount Washington anywhere in the world.

Updated frequently, with hundreds of links to primary, secondary, and post-secondary educational content.
NASA Resources and Links
Citizen Science Opportunities
NASA Globe Cloud Gaze
Would you like to help NASA scientists advance their understanding of Earth's atmosphere and climate from the comfort of your own home? Become an armchair cloud expert and help NASA scientists along the way.
Cloud Gaze
Be a Backyard Meteorologist
You can make a real contribution to science -- all you have to do is join the Community Collaborative Rain, Hail, and Snow Network—CoCoRaHS. You will join thousands of volunteers across the country who take daily measurements of precipitation (rain, hail, or snow) from their location.

Backyard Meteorology
GLOBE Observer
GLOBE Observer is an international network of citizen scientists and scientists working together to learn more about our shared environment and changing climate. GLOBE Observer currently accepts observations of Clouds, Mosquito Habitats, Land Cover and Trees with planned expansion to other types of data in the future.

Globe Observer
Selected media
NASA Image of the Day
A daily dose of awe-inspiring space, science, technology, and human-interest imagery, with deeper links to help you understand exactly what you're seeing.
Gallery
NASA Live
Tune in and you may see: ISS station views and spacewalks; satellite and mission launches; in-flight-education; historical features; lectures; and space news. There's always something fascinating on!

NASA Live
NASA Podcasts
From longform interviews with astronauts and engineers to narrative shows that take you on a tour of the galaxy, NASA's diverse podcast portfolio lets you experience the thrill of space exploration without ever leaving Earth.

Podcasts
NASA Centers and Field Facilities